What Exactly is Reputation Management? Do I really need it?
Do You Need Reputation Management System?
Do you have a local business or are you a professional / Consultant?
Are your competitors getting more reviews and better score?
Do you want to pro-actively improve your review score to attract new customers?
Do you know more reviews with higher ratings can improve your search ranking?
Do you know the potential customers might choose your competitors over you if your review score and rating are not that good?
Why is Reputation Management so important?
Why should you care about your online reviews?
90% of consumers trust the recommendations of others.
Your company's online reputation has the power to either build up or destroy your business.
The internet has provided consumers with the ability to voice their opinions from virtually anywhere they want, whenever they want.
But building and maintaining a positive online image isn't easy. It is time consuming and takes a lot of skills and knowledge to get the job done.
As a local business owner, you probably have no idea where to turn to capture, manage and market online reviews.
Ready to get started?
Contact us now for your FREE initial consultation so we can explain exactly what we can do for you!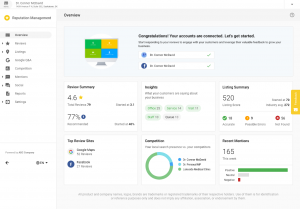 What does the Reputation Management System do?
Compile reviews from dozens of sites so you can easily see what's being said about your business online.
Respond to Google and Facebook reviews in just two clicks using pre-loaded default templates. Plus, you can edit or delete any templates and customize your own.
Monitor where your business is mentioned in a variety of sources, including news sites, blogs and social networks. Plus, highlight the most positive and negative mentions using automated sentiment analysis.
Use competitive benchmarking to see how a business stacks up to the competition on social media outlets and local search.
Get Reputation Management System Now!