Why You Need Listing management and listing builder for your business?
Establish accurate business listings and appear in more places across the web.
Packed with tools that will help you grow your online presence, Listing Builder is the starting point for a business's comprehensive listing solution.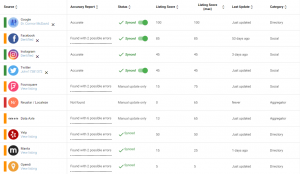 Why do you need accurate listings?
Consumers depend on accurate listings when searching
for local businesses online. Incorrect business listings
lead to lost sales opportunities, frustrated consumers, and lower search rankings.
73% of consumers lose trust in a brand when an online listing shows incorrect information.
Get Listing Builder for FREE and start building and correcting your online presence!